Home and business owners depend on electricians to repair, install, and maintain electrical systems. They always have and always will which means the electrical industry isn't going anywhere. Couple that with the fact that you can work in a dynamic, hands-on environment and you can see why electricians love their jobs. But you already knew a lot of that which is why you're searching for how to become an electrician in Virginia. Below, we cover everything you need to know to get started on your journey to becoming a licensed electrician.  
Let's get right to it…
Getting started:
Attend an electrical school. You can take an electrical training program at community colleges and tech schools. Electrician courses require 240 hours of classroom work that takes around 12 months to complete. Furthermore, you need to complete 8,000 hours or 4 years of on-the-job training as an apprentice. After completing those, you can finally take the Virginia licensing exam. Once you pass the exam, you're a licensed electrician.
Electrician Training: Community College & Tech School
Skills you learn at electrical school:
Wiring electrical systems
Reading blueprints and drafting blueprints
Checking electrical systems installed by others
Using measurement devices to gauge how much electricity is running through a circuit
Understanding electrical theory and how to safely work with electricity
Going to electrical school will give you lots of solid training, and higher earnings compared to unskilled workers in the field. You also become an asset to the job market. The downside? It's not free, so you may have to take loans. That being said, the cost of electrical school in Virginia is affordable at $4,000-$5,000/year for in-state tuition.
Electrician School Requirements
GED or high school diploma
Transcript records indicating a completed minimum of 1 semester of algebra
Must be at least 18 years old
Journeyman Electrician License Requirements
Journeyman electricians repair and install electrical systems. They inspect transformers, wires, and circuit breakers as part of their job. Here are the requirements for journeyman electrician licensing.
Approval to sit for the journeyman exam
Pass an examination
Two years of on-the-job electrician training
A high school diploma or GED
A two-year completed electrical program at a community college or trade school
Proof of work experience and education
Master Electrician License Requirements
Master electricians have the expertise to repair, maintain, and install complicated electrical systems. Oftentimes, they supervise apprentices and journeymen electricians. Here are the requirements to become a master electrician:
Must be at least 18 years old
Pass the examination
At least one year of journeyman electrician experience
Ten (10) years of electrician experience (for those without journeyman license)
Proof of work experience
How To Choose An Electrical School
See to it that the program is certified by the Virginia licensing board
Verify that the curriculum of the school or college has an apprentice program
Check if the program grants financial assistance
Select institutions with programs that meet Virginia licensing requirements
Apprentice Programs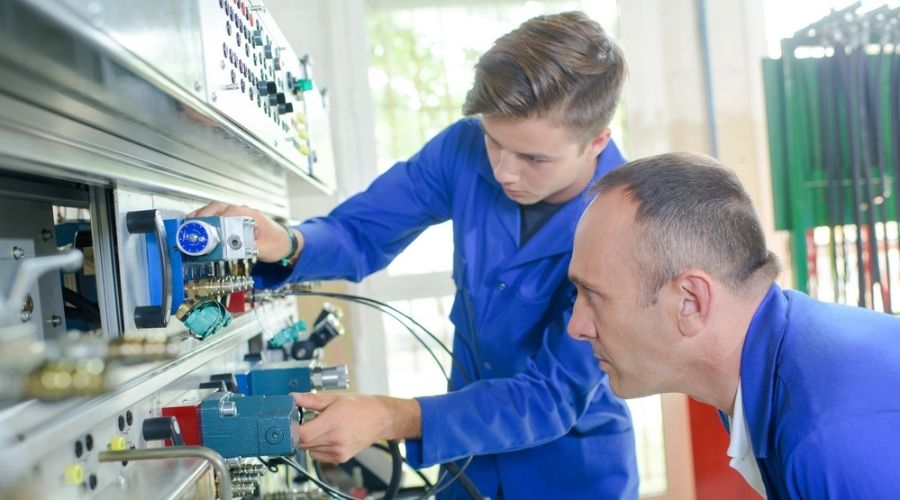 An apprenticeship combines one-on-one technical instructions with on-the-job training. You need this to prepare yourself for the high demands of the electrical field.
The program pairs applicants with seasoned electricians and gives the trainee small jobs as part of the learning process. While there is some classroom work involved, the tasks focus more on the job training.
The best thing about this is that participants are paid hourly. Their hours also typically count towards state licensing. Joining an apprentice program may be a challenge and require some persistence. The waitlists tend to be long so do some research into this aspect before signing up for a program.
Virginia Electrician Apprenticeship Qualifications
Must be at least 18 years old to enroll
Possess a high school diploma or GED
Attended an interview
Physically capable of performing work
Pass a general aptitude examination
Taken and passed Algebra I class
On-the-job (OTJ) Experience
Take the required electrician training courses
Be knowledgeable about Virginia safety requirements and electrical codes
Performing electrical installations for commercial and residential properties
Replacing and repairing electrical wires in existing dwellings
Connect and install wires
Carry out all jobs under the direction and supervision of a licensed electrician
Virginia Electrician Salary
Curious about the amount of money you can earn as an electrician in Virginia? According to the data from the federal government, electricians have an average hourly wage of $24.97, and an average yearly wage of  $54,690. This is the average number for electricians in VA. That being said, you can start your own company and have the potential to make substantially more money. 
Why Is Licensing So Important?
All electrical contractors working in the state of Virginia must have licenses. Here are the top three reasons why it's important.
It guards the security of employers and clients.
Maintaining a current certification is required by the law in Virginia.
National, local, and state codes constantly change. A certification is an assurance that electricians know these revisions.
Common Electrician Licenses
There are 11 Types of Certifications that an electrician can carry:
Apprentice Electrician
Journeyman Electrician License: authorized to install, modify, and maintain electrical controls, systems, and apparatus

Class A Journeyman Electrician
Class B Journeyman Electrician

Master Electrician License: authorized to maintain, install, and repair electrical equipment, control systems, and electrical wiring. They supervise and monitor electrician apprentices and journeyman electricians

Class A Master Electrician
Class B Master Electrician

Electrical Contractor License
Residential Electrician
Residential Electrical Contractor
Residential Master Technician
Special Electrician
Unclassified Person
Electrician Training & Apprenticeship Program
Below is a list of all the electrical schools in Virginia, including all the apprenticeship opportunities in the state.
Virginia Electrical Schools
Virginia Highlands Community College

100 VHCC Drive
Abingdon, VA 24210
(276) 739-2400
(877) 207-6115
Mountain Empire Community College

3441 Mountain Empire Road
Big Stone Gap, VA 24219
(276) 523-2400
Email: info@mecc.edu
John Tyler Community College

13101 Jefferson Davis Highway
Chester, Virginia 23831-5316
(804) 706-5096
Dabney S. Lancaster Community College — Clifton Forge Campus

1000 Dabney Drive
Clifton Forge, VA 24422
(540) 863-2800
Danville Community

1008 South Main
Danville, VA
(800) 560-4291
New River Community

5251 College Drive
Dublin, VA
(866) 462-6722
Tidewater Community College — Chesapeake Campus

1428 Cedar Road
Chesapeake, VA 23322
(757) 822-1122
Southside Virginia Community College

1300 Greensville County Circle
Emporia, VA 23847
(434) 634-9358
Paul D. Camp Community (PDCCC)— Franklin Campus

100 North College Drive
Franklin, VA 23851
(757) 569-6700
Eastern Shore Community College

29300 Lankford Highway
Melfa, VA 23410
(757) 789-1789
Lord Fairfax Community — Middletown Campus

173 Skirmisher
Middletown, VA
(800) 906-LFCC
multiple locations)
Paul D. Camp Community — Smithfield Campus

253 James Street
Smithfield, VA 23430
(757) 925-6340
Northern VA Community

(Multiple Locations in Northern Virginia)
6699 Springfield Center Drive
Springfield, VA 22150
(703) 323-3000
Paul D. Camp Community — Hobbs Suffolk Campus

271 Kenyon
Suffolk, VA
(757) 925-6312
Blue Ridge Community College

One College Lane
Weyers Cave, VA 24486
(540) 234-9261
(888) 750-2722
Wytheville Community College – Main Campus

1000 East Main Street
Wytheville, VA 24382
(276) 223-4700
(800) 468-1195
Union Apprenticeship Programs in Virginia
JATC of Richmond Electricians

11255 Air Park Road
Ashland, VA 23005
(804) 752-8266
Training at Tidewater Electrical

828 Providence Road
Chesapeake, VA 23325
(757) 480-2812
JATC of Hampton Roads

553 Industrial Park Drive
Newport News, VA 23608
(757) 875-1744
Independent Electrical Contractors ("IEC") Apprenticeships in Virginia (Non-Union)
IEC Chesapeake

8751 Freestate Drive
Laurel, MD 20723
(800) 470-3013
ABC Apprenticeships in Virginia (Non-Union)
A non-union organization called The Associated Builders and Contractors ("ABC") also offers apprenticeships in Virginia. They have three locations:
Dulles, VA; phone number: (703) 968-6205
Richmond, VA; phone number: (804) 346-4222
Norfolk, VA; phone number: (757) 855-8220
FAQs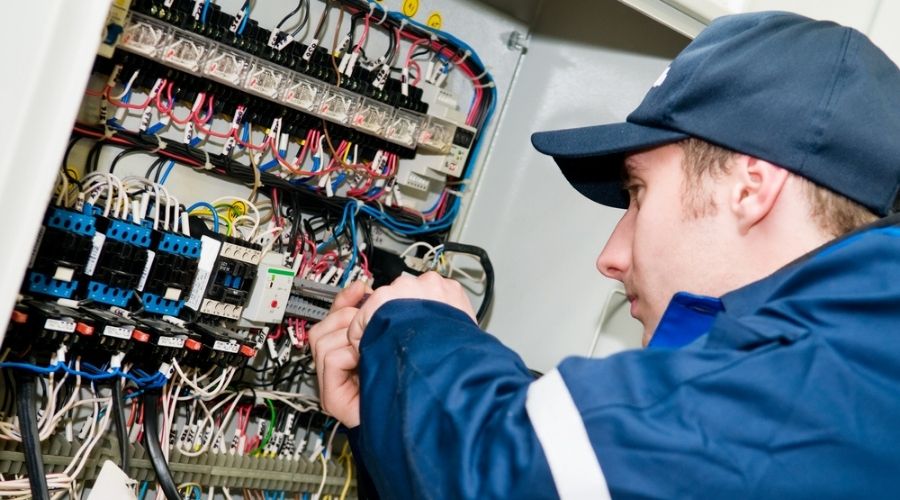 How much is a journeyman license fee?
Journeyman license fees range from $75 to $200.
How much is the Virginia apprenticeship application fee?
Apprenticeship application fees in Virginia are around $25 to $50.
What is the passing score for the journeyman electrician test? The master electrician test? What topics will the exam cover?
You need a score of at least 70% to pass both the journeyman and master license test. It's an open-book examination, and the coverage includes but not limited to the following:
General Electrical Knowledge
Electrical Signs and Outline Lighting
Electrical-Electronic Fundamentals Services
Grounding and Bonding
Conductors and Cables
Raceways and Boxes
Special Occupancies
Special Equipment
Fire Detection and Alarm Systems
Motors and Controls
Utilization Equipment
Lighting
General Low Voltage Requirements
Communication Systems
Requirements for Electrical Installations
There is also a regulatory/statutory section incorporated into the exam and its contents include:
Standards of Practice
Standards of Conduct
Renewal and Reinstatement
Definitions
Qualification for Licensure
Revocation of Licensure
How much will the test fees be?
There's an examination fee for every license — $100 for journeyman electricians, and $125 for master electricians.
Is my license only valid in Virginia?
Virginia has reciprocity agreements with several other states. If you're licensed in one of the states included in that agreement, you may only need to submit a few simple forms to get approved for work in VA.
How often do I need to renew my Electrician License in Virginia?
All electricians must complete continuing education to renew their licenses and must renew them every 2 years. The state of Virginia requires you to complete continuing education of at least 3 hours every 2 years. Only the programs offered by approved providers count.
Should I join an Electrician Union in Virginia?
Unions in Virginia require licensed electricians to pay membership dues to be able to join. These dues cost around $100 to $200 each month. It may seem a lot, but it's worth it. Over 90% of the members are insured by employers. Unions also help negotiate more competitive salaries, as well as sick pays and pension plans for electricians.
Am I required to have Electrician Insurance?
Electrical professionals who work in Virginia are required to have general liability insurance coverage.
How can I use my electrician license to land a job?
Government organizations, small businesses, and huge corporations offer hundreds of electrical jobs. Browse the following websites when looking for jobs and apprenticeships in Virginia: Electrical Agent, Glassdoor, Electrical Jobs Today, and CareerBuilder.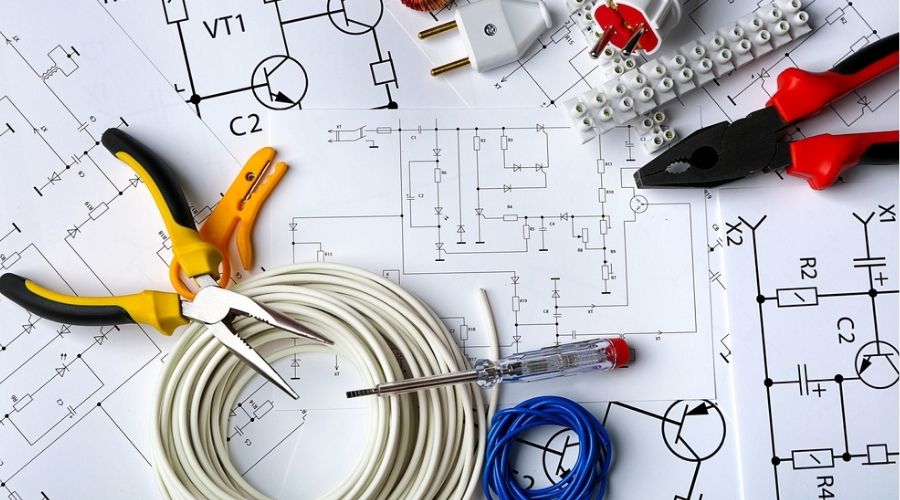 Test Preparation Resources
–Virginia Electrician License Exam
–American Contractors Exam Services