A ceiling fan is an energy-efficient upgrade for your home, well worth the installation cost. A fan can aid your air conditioning system, helping control and maintain a room's temperature.

With so many choices, choosing the best ceiling fan for your home can be challenging. This quick guide can help.
Indoor Fans vs. Outdoor Fans
While indoor and outdoor ceiling fans work similarly, there are a few essential differences.
Indoor Ceiling Fans
Indoor ceiling fans create an evaporative effect in a room, making the space feel a few degrees cooler. They are best installed in frequently used rooms, such as bedrooms or living rooms.
Outdoor Ceiling Fans
Outdoor ceiling fans provide the same functionality as indoor ceiling fans, but they are designed to withstand moisture.
When choosing an outdoor ceiling fan, select one with the necessary Underwriters Laboratories (UL) and Electrical Testing Laboratories (ETL) rating. The ratings are:
Damp-rated fans: are best for use in covered outdoor spaces or a bathroom or laundry room that gets damp
Wet-rated fans: designed for covered areas where the fan may be affected by rain or snow, such as in a gazebo
Room Size vs. Fan Size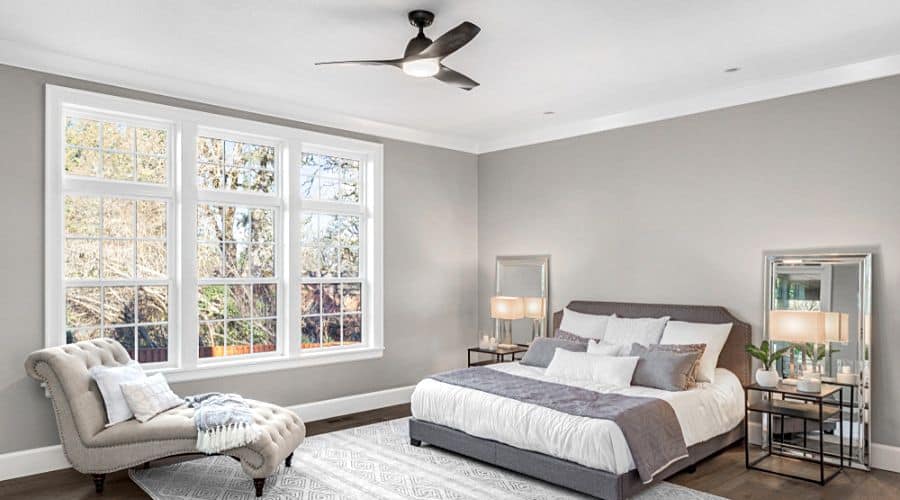 Use this table to determine the best fan sizes for your rooms.
| | | |
| --- | --- | --- |
| Room Size | Fan Size | Room Type |
| Less than 50 sq. ft. | 29″ or less | Laundry rooms, walk-in closets, hallways |
| 51–75 sq. ft. | 36″ | Large bathrooms or small dining areas |
| 76–100 sq. ft. | 42″ | Kitchens, home offices, small bedrooms |
| 101–225 sq. ft. | 52″ | Master bedrooms, large dining rooms, patios |
| 226–400 sq. ft. | 56″ | Large living rooms, family rooms, great rooms |
A larger space might be better served with two smaller fans rather than one large one, depending on the room's shape.
When choosing a ceiling fan size, allow a minimum of 18″ to 24″ of clearance on all sides of the fan.
Different Ceiling Heights & Suited Mount Types
Ceiling fans must meet building codes when installed. The bottom of the fan cannot be lower than seven feet from the ground. Here are the recommended fan types for different ceiling heights:
Flush Mount or Low Profile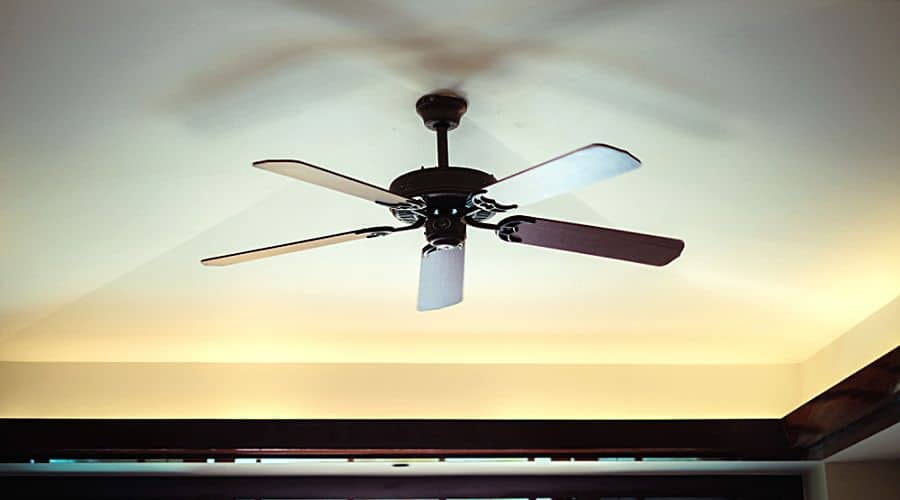 These types of ceiling fans are necessary for 8-foot ceilings. They allow for the required seven-foot clearance from the fan base to the floor.
Standard Mount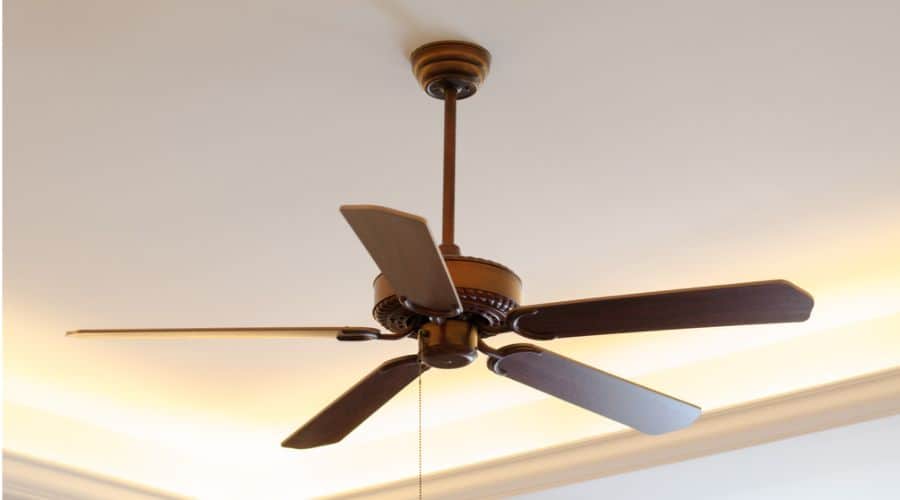 Standard mount fans are ideal for 9-foot ceilings. The fan will be high enough but hang down low enough to provide maximum air circulation.
Extended Downrod Mount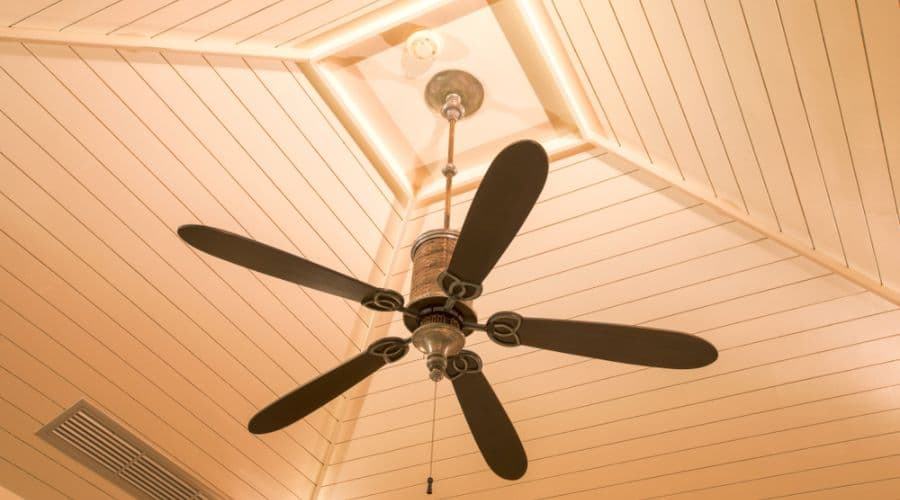 An extended downrod mount is recommended for ceilings 10 feet high or greater. Air circulation is increased as the fan is extended down into the room.
For vaulted ceilings that are sloped 34 degrees or more, a sloped ceiling adapter kit must be used to keep the fan level once installed.
Ceiling Fan Blade Finish
There are a few different fan blades to consider, including:
MDF: These blades are fiberboard covered by a laminate sticker, and are found on cheaper fans.
Plastic: Plastic blades are inexpensive but hold up well to moisture. They are ideal for damp areas.
Wood: Wood blades are more expensive and used on premium fans. They can have a sleeker look than other blade types.
Metal: Metal blades can be very sharp. Building code dictates that metal fans are hung at least 10 feet off the floor and usually come with a protective cage. They are ideal for the outdoors except near salty ocean air.
Dependable Ceiling Fan Installation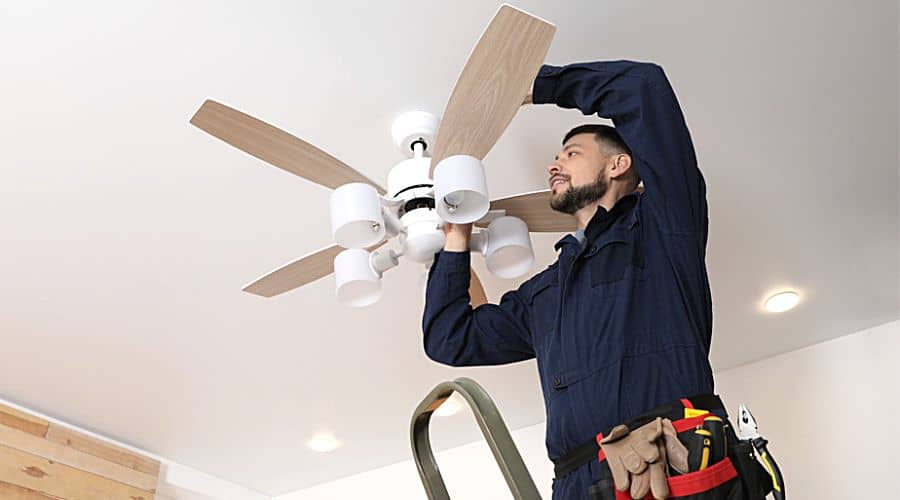 If you're planning to add ceiling fans to your home, the US Electric team can help. Our experienced technicians can install many different makes and models. Professional, dependable, and safe installation is guaranteed! Call us today to get started.