Electric stoves require a lot of power to run efficiently in your kitchen. Most kitchens have 120-volt electric outlets suitable for gas ranges, so overloading those with a 220-volt electric range can damage the outlet or cause your home's circuit breaker to go out due to excessive power usage.
Installing a specialized outlet might be challenging, so it would be wise to consider calling a professional, like our team at U.S. Electric. However, if you'd like to learn a little more about the installation process, we have all of the information you need below.
Electric Stove Wiring and Outlet Requirements
Before plugging in your electric stove, your kitchen needs to meet the necessary wiring and outlet requirements to ensure there won't be any electrical malfunctions. Electric stoves require two hot wires, one neutral and one ground, that need their own joined breakers.
Wiring these appliances requires a 50-amp circuit compatible with 240 volts and a 6-gauge wire. You want to shut down all of the power in your home before installing this type of outlet. The specific requirements for your installation may differ based on a few factors including:
The stove's size
The number of conductors on power cords
Compared to gas stoves, electric stoves tend to use more power. The average gas stove uses 120 volts. Typically, electric stoves use 220 volts to operate. Other appliances that require the same voltage include central air conditioners, clothes dryers, and water heaters.
Freestanding vs. Drop-In Electric Ranges
Another factor to consider when installing your electric stove is whether your unit is a freestanding or drop-in range. Some installation practices might work for one, but not the other.
Drop-in electric ranges have circuit wiring connected directly into the appliance's panel and don't require an outlet receptacle. Freestanding electric ranges require dedicated outlet receptacles for their plug-in cords. However, both need power sources able to withstand 220 volts.
Installing a New Outlet for Your 220V Electric Stove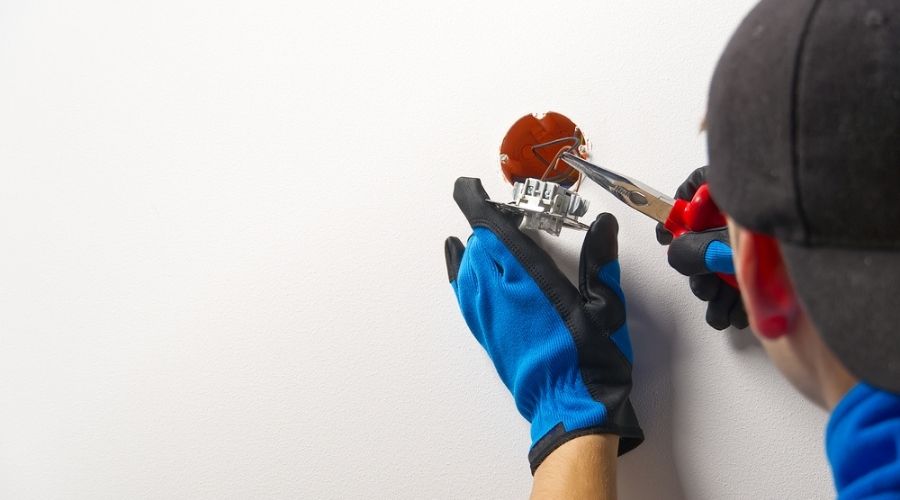 When installing a new outlet for your 220V electric stove, you must consider the amount of power it uses. The voltage your electric range uses might be too much for an ordinary 110-volt outlet to handle and requires fine-tuning to prevent electrical damage in your home.
Installing an electrical outlet isn't an easy task, and not taking precautions can be dangerous for inexperienced homeowners. If you're unsure about your electrical skills, the best alternative is to contact an experienced electrician to handle the job.
By consulting a pro, you're not risking your safety to install an electric stove. The last thing you want to worry about is getting hurt or causing damage to your stove or home.
Shut Down Your Home's Electricity
Whether you perform this task yourself or request a professional to do it, the first step to installing your electric stove outlet is shutting down your home's power source to ensure no electrical currents interrupt the operation.
You can find your home's circuit box in several possible locations, such as your basement or garage. After finding it, turn the main disconnect switch off to cut the power in your home. This switch is typically the largest circuit breaker on the box's panel.
Check If Your Power's Off
Sometimes, there are issues cutting a home's power. Make sure to test whether or not your power's actually off to ensure it's safe to install your new outlet. 
This process is as simple as testing light switches or attempting to turn on your TV. Doing this can reduce your risks of electrocution while working on your wiring. If you have a housemate, you can ask them to alert you when the electricity has shut off. You should also use a simple multimeter to test the actual outlet your working on prior to moving forward.
Once you ensure all your power is off, you or your electrician can begin installing the necessary breakers, cables, and outlets for running your electric stove.
Installing Breakers, Cables, and Outlets
The next step you need to take is to install a new breaker switch in the circuit box to control your new electric stove outlet. Make sure there is enough space to install a double-wide circuit breaker switch according to the manufacturer's instructions
After placing the breaker switch, you need to install a connector into the circuit box's side in order to connect the necessary cables inside the box.
If this process is too complex for you, you can ask an electrician to inspect the connector and breakers to ensure a successful installation.
After preparing your box, you need to run the cables through the walls leading to where you want to place your electric stove's outlet. It is important to avoid other wires and utility systems while moving the wires through the walls.
Once you finish lining up the cables, leave the longest section outside of the last hole. Then, strip the insulation at the end of the cable and connect it to the outlet before screwing it into the wall. After securing the electric outlet, you'll soon be ready to test it out.
Plugging In and Testing Your Electric Range
The final step you have to complete is routing the outlet's cable through the circuit box's connector and wiring it into your circuit breaker. You should also determine how much cable you'll need when connecting it to the ground and neutral bars.
After inserting the grounding, neutral, and hot wires into their appropriate screw terminals, check to see everything is wired correctly and in place. It would also be wise to secure the range cable if it doesn't have stable support.
Before turning on your house's electricity, switch the electric stove outlet's breaker off to prevent overloading. After restoring your home's electricity, test your outlet's power. 
If you have a multimeter on hand, you can measure the outlet's currents or voltage. You can plug in your electric stove once you ensure that the outlet's power is stable at 220 volts.
This process might vary depending on your circuit box or outlet's instructions. If you need help, ask an electrician to help with the installation.
Range Power Cords: Not Included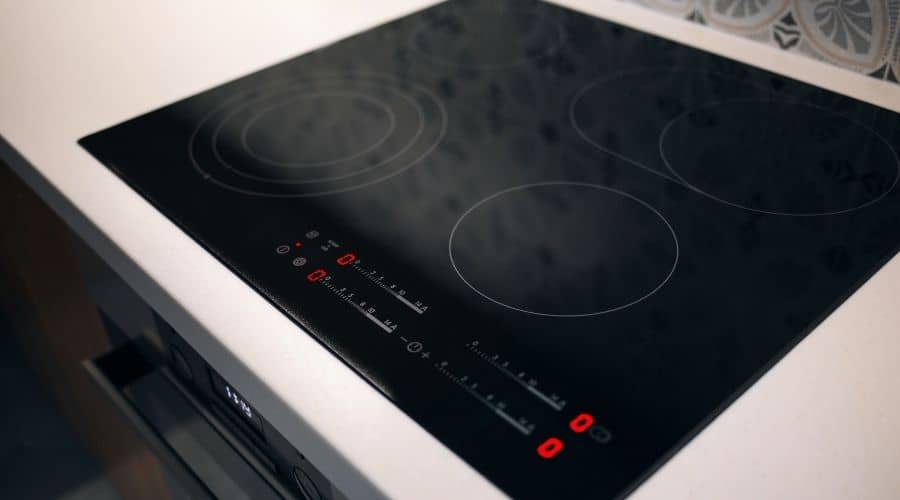 Another thing to keep in mind is that most ranges don't come with their power cords. Typically, you'll need to purchase the cord separately and connect it to your stove.
Although a circuit's size can vary, the cord and receptacle type don't. In 1996, the National Electrical Code enforced guidelines for the use of four-conductor circuits for electric stoves and other high-energy appliances.
The NEC updated these guidelines to create safer methods for connecting power cords from the electric stove to the circuit box. Receptacles with four slots typically accept 4-prong cord plugs; if you try installing a receptacle for 3-prong cords, it's a violation of code.
When connecting the power cord, remove the back access panel on your electric range, thread the cord into the range's panels, and connect the necessary wires into their matching screw terminals.
Need Help Installing Your Electric Stove Outlet? Contact U.S. Electric
Our team at U.S. Electric prioritizes maintaining secure electrical and wiring operations for your home. We can step in if the installation becomes too complicated or help you right from the start. If you have any questions, contact us online or give us a call today.