WHETHER IT'S AN EMERGENCY OR AN EVERYDAY REPAIR…
We'll complete the job with integrity and efficiency.
We are one of the most responsive and courteous electrical companies in the Richmond, VA area.

WE ARE THE ONE TO TRUST.
GET THE FIX.
At U.S. Electric, providing the highest level of electrical repair, new installation, upgrades, troubleshooting and emergency electrical services are only part of what it means to be a professional electrician. We also strive to excel in areas we feel are just as important. As Electrical Contractors, our commitment is solid and our work ethic is a unique set standards we live up to on every service call, including:
• We will serve our customers with experience, integrity, competence and objectivity.
• We will deliver to our customer, all electrical services promised as well as a check on other electrical systems that may need occasional or seasonal review
• We will perform all electrical work to meet or exceed technical codes
• We will explore each customer situation to sufficient detail and gather sufficient facts to gain an understanding of the problems, the scope of assistance needed, and the possible benefits our service as electricians may provide our customers. As your trusted electrician, our goal is to help our customers clearly understand the most accurate and informed assessment.
• We will respect each customer's home and property and leave them as clean as we found them.
We are centrally located in Richmond's Fan District just minutes from the Expressway. We also serve  customers in Henrico Co., Hanover Co., Chesterfield Co., Short Pump, Innsbrook, Midlothian and other Central VA locations.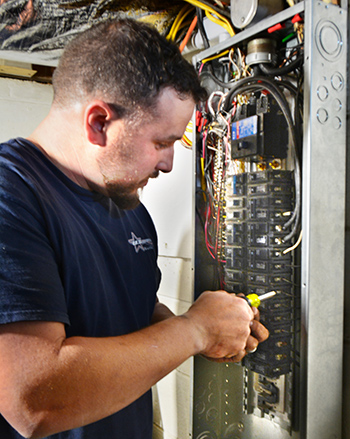 Free Estimate
On Residential Electrical Services
Call (804) 823-8015
M-F 8AM-4PM
Sorry, 24 Hour Emergency Service
not included.
US Electric has been the Richmond and Central VA Area's Trusted Electrician for 25 Years. We look forward to solving your needs while providing friendly, excellent service.
Need An Electrician in Richmond, VA?
Here's what our customers say about us:
Good morning and Happy Friday!
I wanted to send a shout out to James! He helped us out with a silly emergency call last night and I could not be more grateful. The store was insisting on emergency service for a bathroom lighting outage. Typically we would receive a lot of push back from our contractors to dispatch an emergency for such a thing. Not only did James travel to Williamsburg, he treated this call with great professionalism. Again I appreciate it. I will be sharing my wonderful experience with US electric with the rest of our office. I hope to send additional work orders in the near future!
Residential Electrical Services
U.S. Electric provides a wide variety of Electrical Services that range from New Services Installations in the Pre-Construction phase, to the smallest outlet troubleshooting request.
When you need a trusted residential electrician in the Richmond, VA area, US Electric is here to help! We provide a complete list of electrical services. Here are just a few:
Service Installations/Upgrades
Ceiling Fan Installation / Maintenance
Install/Replace Breakers and Fuses
Code Corrections
Outlets and Circuits
Track and Accent Lighting
Service Panel Upgrades
High-Tech Troubleshooting
Dedicated Computer Circuits
Data / Communication Lines
Lighting Design & Maintenance
Security & Landscape Lighting
Surge Protectors
Motors
Exhaust Fans
Electric Water Heaters
Transformers
Smoke Detectors
Ground Fault Interrupt Circuits
Appliance Circuits