Water heaters are one of the most used appliances in every household. Yet, for the most part, it doesn't demand much to maintain. 
No matter the appliance, you need to turn it off at some point. But is it necessary to turn off your electric water heater when it's not in use?
Turning Off Your Heater — Is It Necessary?
It's always better to understand the advantages and disadvantages of turning off your electric, gas, or tankless water heaters.
Let's work through the pros and cons of turning off your heater, so you can make an informed decision regarding your household.
Pros of turning off your heater:
A small amount of heat escapes when the water heater is on, even though your appliances are well insulated.
Turning off your water heater may help you save a little money on your bills each month.
Cons of turning off your heater:
It will not result in noticeable energy savings. In a report by The U.S. Energy Information Administration, electricity prices are expected to rise by 3.9% between the months of June and August of 2022, compared to the electricity prices during these months last year.
Repeatedly turning the heater on and off can cause even more problems. It results in no hot water in your water supply when you need it. You may also encounter difficulties turning the power back on, delaying the use of warm water.
When Do You Really Need to Turn Your Water Heater Off?
There are specific instances when turning off your water heater is necessary. Here is a list of those reasons:
When the main water supply is shut off
When there's a leak
When you are doing a maintenance service
When you are going on vacation
How To Turn Off Your Water Heater?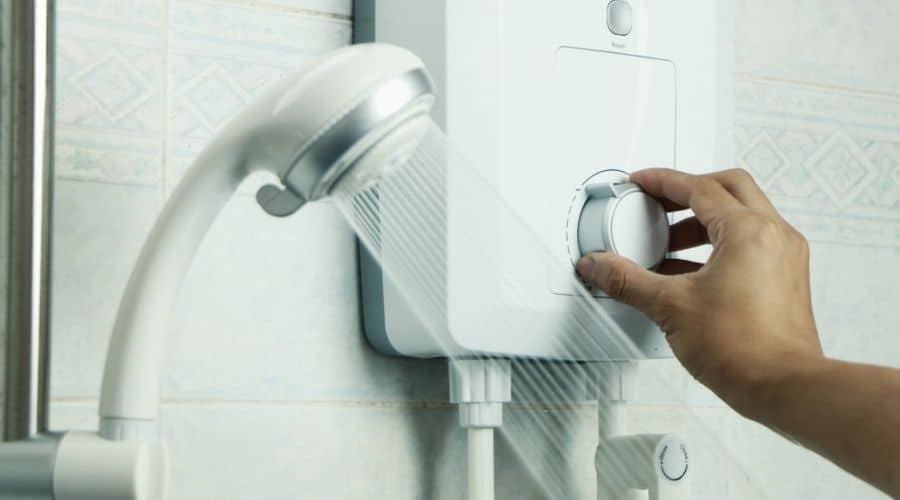 The simplest way to turn off your water heater is by disconnecting the switch. When you want to turn on the heater, connect the switch half an hour before you need it, then turn it off before you start using the hot water.
Consider installing a timer for your water heater. A timer saves you from manually turning your water heater on and off. However, this option has proven costly.
Look at the pros and cons before deciding if you should turn your water heater off or not. Make sure you note the period of time it is not in use to ensure you have warm water when you need it.
Other Ways To Lower Your Water Heating Cost
The following tips can help lower your water heating costs.
Schedule a regular unit flushing/maintenance
Having a professional insulate your tank can lower your standby heat loss. This process can reduce your annual cost by 7% to 16% annually.
Lower the output temperature
Lowering the output temperature on either a gas or electric water heater may save you 4% to 22% annually. However, remember not to go lower than 120F because any lower can increase the risk of Legionnaires Disease.
Professional and Efficient Electrical Services
U.S Electric has more than 30 years of delivering exceptional residential and commercial electrical services in Richmond, VA, and surrounding areas. Whether it's water heater installation, repairs, replacement, or upgrades, our expert electricians can help!
Call us today to get started!