Whether you're enjoying a spring afternoon on the deck or a summer night on the porch, your outdoor space is an important part of your Richmond home.
A beautiful yard and exterior make your home visually appealing and create a comfortable ambiance. But when the sun sets, all that design work fades away unless you have an exterior lighting system to match. Besides, it's hard to enjoy your outdoor spaces at night when you can't see them. Here are some of the greatest benefits of adding outdoor lighting to your home.
Elevated Beauty
A beautiful home should inspire awe 24-hours a day.
An outdoor lighting system showcases your landscaping. It also highlights outdoor architectural features that give your home its charm.
A cohesive lighting scheme doesn't just make your home more enjoyable. It also makes it a highlight of the neighborhood, even at night.
Enhanced Home Value & Curb Appeal
Curb appeal enhances home values. When prospective buyers pull up to your home, they establish their first impression in a matter of seconds.
Though they may first see it during the day, chances are they will return for an evening viewing before making an offer. When they see that the home looks even more stunning at night, your property goes to the top of their list.
Enjoy Your Outdoor Living Spaces for Longer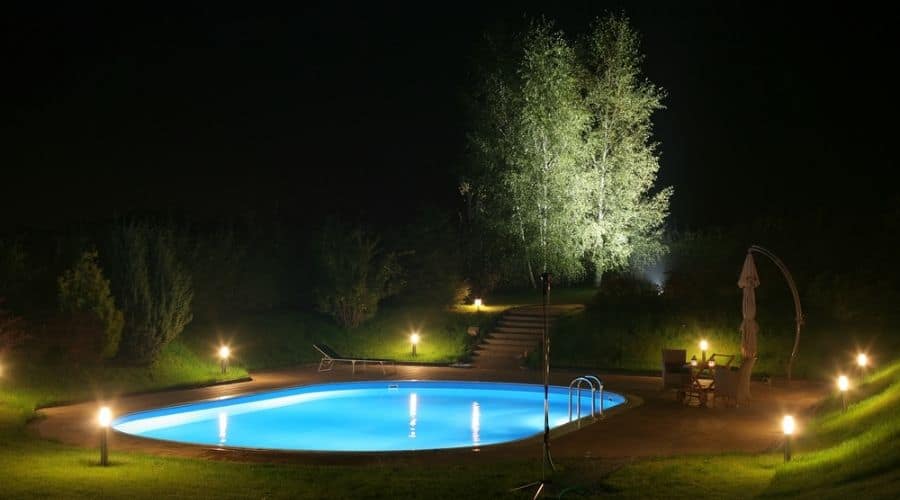 Time spent on your deck and patio creates cherished family memories. Bonfires, outdoor grilling, and late-night swims are all activities that make beautiful nights a joy.
Enjoying your outdoor space after the sun goes down requires investing in an outdoor lighting system that suits your home. The right system can help illuminate everything from water features to architectural features.
Heightened Safety & Security
When you, your family, and your friends are using your outdoor space, the last thing you want is someone tripping and getting hurt. Outdoor lighting keeps those spaces safe by providing the illumination you need. This also makes it less likely that you'll face liability for someone getting hurt on your property.
Outdoor lighting also deters intruders. Criminals are more likely to trespass, vandalize, or steal under the cover of darkness.  Well-lit homes are a harder target. Lighting that accentuates a security system only further deters them from approaching your home.
Lighting Effects for Any Season
Landscape lighting system designs accentuate the outdoor features of your home all year long. Use them to highlight the beauty of spring blooms, autumn leaves, and winter frost.
You can enjoy the benefits of outdoor lighting any time of year.
Making the Most Out of Your Outdoor Lighting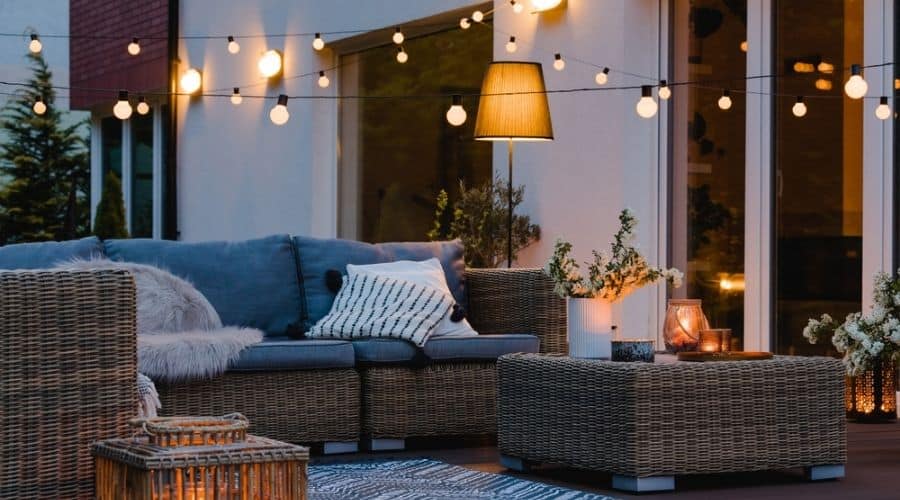 To make the most of your outdoor lighting, start by balancing beauty and security. For example, take note of dark areas that need more lighting for safety. Are there any gardens you could illuminate to highlight their beauty?
Another important consideration is finding fixtures that best suit your outdoor living space. There are many options on the market, so you can find the perfect fit. Some popular options include solar lights, lampposts, path lights, and floodlights.
Creating an outdoor lighting scheme allows you to unify your lighting system. A scheme should reflect your aesthetic tastes and personality. You may opt for a minimalist design or a lighting scheme that matches your indoor lighting. There are plenty of options to suit your style.
Your outdoor lighting also needs to comply with local safety standards and codes. For example, it's essential to use only damp-rated or wet-rated fixtures. They are specifically for outdoor use, making them safe and reliable in any weather.
Homeowners should also be aware of any Dark Sky Compliance regulations. Dark Sky Compliance stems from a movement to reduce light pollution. Many Richmond neighborhoods require outdoor fixtures to follow these regulations, allowing the stars to shine more brightly. 
Another way to increase your home value is by adding an outdoor room. For example, an outdoor room may consist of a terrace with a fireplace, dining table, and an awning, so you can enjoy the outdoor area even when it is raining or chilly.
As they become more popular, outdoor lighting schemes for these spaces become more important. A beautifully lit outdoor room is always an asset.
Conclusion
U.S. Electric is a Richmond, VA electrical company with over 30 years of experience. We can help you pick the outdoor lighting that suits your needs and install it with ease. To get the most out of outdoor lighting for your Richmond, VA home and get guaranteed services, call U.S. Electric now!